Lazio Hooligans

Country: Italy

Firm: Irriducibili

Stadium: Stadio Olympico
Irriducibili
Lazio's firm are called Irriducibili and they control the Curva Nord end of the Stadio Olympico. Lazio's followers have long been associated with far right politics and a wide range of banners are often unveiled on the Curva Nord end of the ground.
Banners such as support for Arkan, the Serbian war criminal and also banners about Auschwitz the Nazi concentration camps have been paraded before matches. This at times has fed on to the players such as Paulo Di Canio who famously celebrated a goal by running to the crowd and giving the Irriducibili a fascist salute after scoring during the Rome derby. The right hand raised in the air in a straight-armed Roman salute was a symbol of Italy's former fascist dictator Benito Mussolini. The former leader himself was a big Lazio fan and often went to matches.
Paulo Di Canio Nazi Salute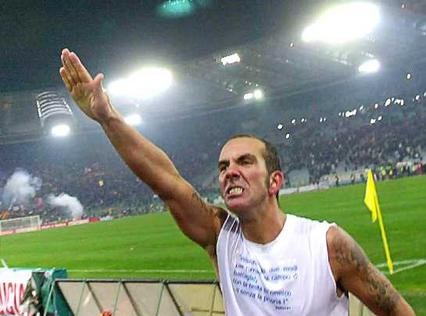 Lazio supporters have a passionate but also very violent following. The video below shows Lazio fans clashing with Italian police at a match against AC Milan at the San Siro. It shows the difficulty police have in dealing with the situation when hooligans can get inside the stadium armed with sticks and flares. The video really starts moving at 3mins 40secs with charges from the police and the ultras.
Irriducibili BBC Documentary
The Irriducibili were the subject of a BBC programme which followed members around looking at the role they play in there football club. The Lazio followers showed the strength and power they hold.
Part One - Irriducibili
Part Two - Irriducibili
Part Three - Irriducibili
Lazio Irriducibili Ultras Pictures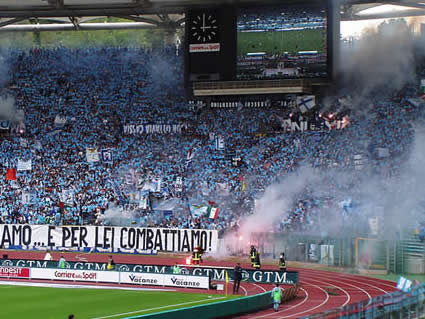 Further Viewing:
External:
Politics on he Curva Nord - BBC News
Footballers fascist salute row - BBC News